Coronavirus COVID-19 Update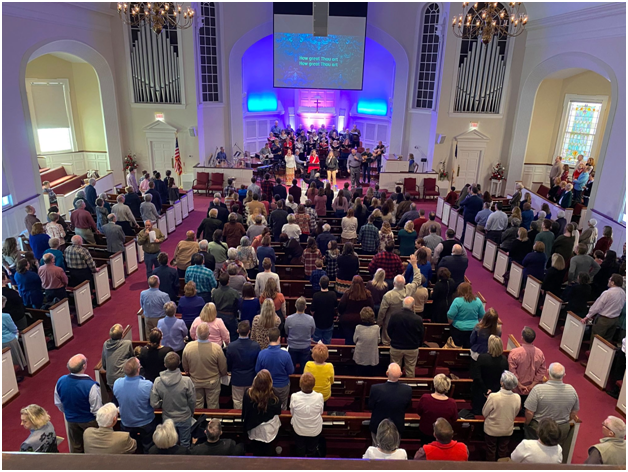 We will reopen for on-site worship June 7, 2020, because we must obtain new equipment and supplies for safe worship. We also must enlist adequate volunteers who will be trained in advance of return to our campus for worship. With so many churches and businesses all seeking these materials, it has been a challenge to secure all that which will be needed. In the interest of safety and transparency, we want to communicate very explicitly our findings. This is a temporary status while the pandemic remains a threat. We pray for the day when we can return as a body to worship with no fear of infection. For now, these guidelines will be operative at Shelbyville First Baptist Church. Understandably, with so many different people, we must give one another the grace to feel more cautious as well as the grace to feel a longing to return to the carefree function of worship as a church which we enjoyed in earlier days.
1. Wearing of Masks is strongly encouraged and recommended. We will have some available for a person who may arrive without a mask, as they are available for the church to purchase. State guidelines indicate children under two should probably not wear masks. If someone arrives and they are uncomfortable wearing a mask, they will not be turned away. But masks are strongly encouraged and recommended.
2. Some people may still feel more comfortable worshipping at home. Live Feed worship will be available for the foreseeable future. We have been pleasantly surprised and delighted to be joined in worship by some who have never and attended
and by others who have had health limitations in the past. 3. We must honor guidelines about occupancy limits in this time of pandemic. In order to maintain social distancing, we have determined the sanctuary will accommodate roughly 200 people. When that number is reached, we can accommodate another 100
people in the fellowship hall. Three hundred will be our maximum capacity on June 7, 2020. If additional overflow seating is warranted, we will open other areas with live feed
from the sanctuary in subsequent weeks.
4. In order to maintain safe social distancing, worshippers will be seated by ushers. Family units will need to enter and be seated together on the pews where they are directed by ushers. This may mean being seated in new part of the room, but open seating is not practical in this season of pandemic.
5. We will not be passing offering plates. Online giving is highly encouraged. Contributions of tithes and offering may also be made in newly acquired offering boxes at the exits of the sanctuary or mailed into the church.
6. We will express friendship and greetings with a kindly wave, but we will avoid handshakes, fist bumps and hugs. We are a loving people, and we enjoy expressing that love physically. However, as an act of love and respect for different levels of interactive
tolerance, we will all opt for a kindly wave in lieu of other physical expressions of admiration and hospitality for the near future.
7. We will exit as directed by ushers row by row.
8. During this season of heightened hygiene needs, we will be unable to offer worship care, children's studio, or Bible Studies in house. We will have activity packets for children each week. Parents need to keep children with family units and avoid allowing
them to move freely throughout the facility.
9. Bible Study leaders will communicate individual class strategies for their respective classes. Even after we return to Bible Study classes, we will encourage the possibility of periodic online presence. This has been incredibly well received and embraced by many people and it allows for interaction if someone is unable to attend on-site.
10. Restrooms will be available, but due to tight quarters, only one person at a time will enter the restrooms, unless a child needs the assistance of an older family member. 11. We will all enter either through the front foyer doors or the doors at the black awning. Ushers will man the doors and open them for worshippers as they wear gloves. There will be no need to touch the doors for entry or exit.
12. Pews will be pre-sanitized before worship services and all pew materials (Bibles, Hymnals, envelopes, cards, and pens) will be removed to avoid the possibility for contamination or sanitizing after worship concludes.
13. Response at the time of invitation will be done in two manners. Public responders will be escorted to side private rooms to meet with counselors. In addition, on-site and digital worshippers will be given a number to which they can text their response for follow-up later in the day.
14. While on the platform, worship leaders and speakers will not be required to wear masks, but wearing masks will be encouraged before and after platform responsibility. Platform personalities will maintain social distancing to the extent possible.
15. Singing will primarily be handled in the short-term by platform leaders. Whether in masks or not, singing projects particulates in a manner which dramatically increases the potential for infection. This is admittedly not an easy alternative. Understand, please,
that these are short-term guidelines which will be relaxed as soon as it is safe to do so.
16. Short-term instructional signage will be prominent initially as we all adapt to new routines.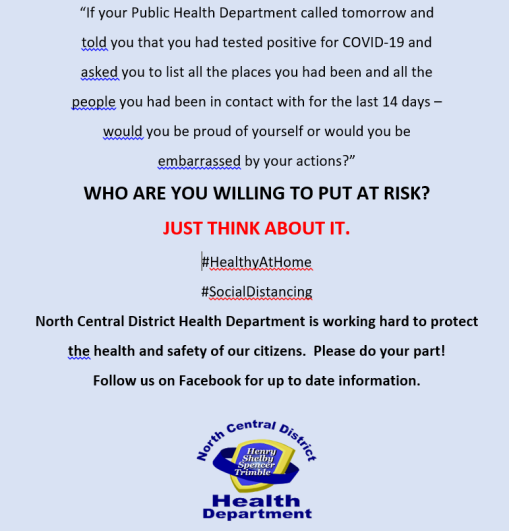 UPDATE REGARDING TOUCHED TWICE POSTPONED THIS SATURDAY -- 3/18/2020
Shelby Touched Twice Drive Through Update
Based on the Guidelines by the Cabinet for Health and Family Services https://chfs.ky.gov/agencies/dph/pages/covid19.aspx It is advised that all gatherings be cancelled. The 11th Shelby Touched Twice Clinic Drive Through Clinic has been postponed indefinitely until conditions improve. No volunteers are needed at this time. No cakes or muffins are needed at this time. We will send out information when our current situation changes. We will continually be in prayer for our community.
UPDATE REGARDING GATHERING AT SHELBYVILLE FIRST BAPTIST CHURCH -- 3/13/2020
Our Trustees, Deacon Officers, Moderator and Ministry Team have conferred at length over the past few days. Earlier, we made the decision to have worship with modified precautions on March 15, 2020. However, we noted at the time of the announcement that we would monitor news sources, health-related releases, and consult with a number of experts. We would then make a decision based upon the best wisdom and knowledge at our disposal.
In the interest of overall church health and in response to the rapidly changing reports which are coming out, we have had to make the reluctant decision to suspend corporate worship and all group activities in the Shelbyville First Baptist Church Building beginning March 14, 2020, including worship and Upward Basketball. There will be no corporate worship on March 15 and March 22, 2020 and no Next Level Activities.
As leadership monitors prevailing conditions, we will evaluate when it will be best to resume our more normal routine.
We will have a digital worship option available for worship and regular daily devotions via our website. These will begin immediately. In addition, we will be sending out printed resources for those who may not have access to the internet.
At present, the church staff will be in the office, but the building, gym, and walking track will be closed to the public for a time of deep cleaning. If one needs access to retrieve something from a room, the staff will open the doors to allow for limited access.
Tithes and Offerings can be dropped off, mailed, or sent via our website online.
Although our comfortable routine is in flux, the constancy of God is unaffected. He is our reason for being. And the church, even when we are unable to gather, remains a family committed to Him and to one another. Do not hesitate to contact the office as ministry needs and prayer requests arise, even in this time of adjusted ministry.
The Shepherd loves the sheep of the flock!
Brother Maurice