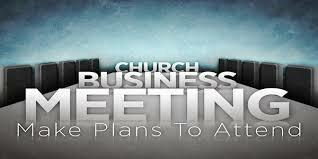 Sunday, October 13, 2019, 4:00 PM - 5:15 PM
The Monthly Business Meeting scheduled at 6:30 pm on Sunday, October 13, has a new location and time.
Please join us in the Fellowship Hall at 4:00 pm to conduct our regular business meeting at which time our worship study committee will present their findings. And then, as a church family, we will talk about and vote on what the church family believes to be God's plan for worship.