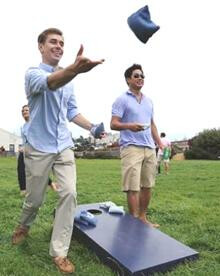 Saturday, June 02, 2018, 4:00 PM - 7:00 PM
Get your Bible Fellowship class in training! There is a church-wide Corn Hole Tournament on the horizon! You will not want to miss the excitement.
Each Bible Fellowship Class can enter up to 3 teams: Male, Female and Co-ed. (All classes, young, senior, men, women, co-ed are invited to sign up. Bonus points will be determined for nonmember guests attending.)
The fun and food starts at 4 pm at the Finchville Park. The church will provide the meat for the meal with each person to bring a covered dish. It's a real old-fashioned Baptist pot luck in the country that everyone will love and talk about for years to come.
THE GRAND PRIZE FOR THE WINNING CLASS IS A 'BAR-B-Q DINNER' cooked and served by Pastor Maurice!